In developing countries, the laws necessary to protect citizens are often already in existence, but for many people—especially the world's poorest—this isn't enough to keep them safe. Criminal justice systems are frequently broken and corrupt.
Children learn at an early age that it is safer to run from police rather than seek their assistance. When there is no public resource willing to protect you, what do you do?
International Justice Mission (IJM) founder, Gary Haugen recently took the stage at TED to spotlight how violence undermines people's ability to rise out of poverty. Violence is as much a part of the poor's daily lives as hunger, disease and homelessness. In fact, violence is often a main culprit for this downward spiral.
Gary's TED talk, available below, hammers home that a lack of law enforcement allows criminals to rape, enslave, traffic and abuse the poor without fear of police, courts, or the law itself. The story of Griselda is one of many heartbreaking examples that Gary shares. Griselda is a young girl in Guatemala, who received generous educational and empowerment opportunities from donors. But on her way home from school one day, she was brutally raped. Now, she barely leaves the house.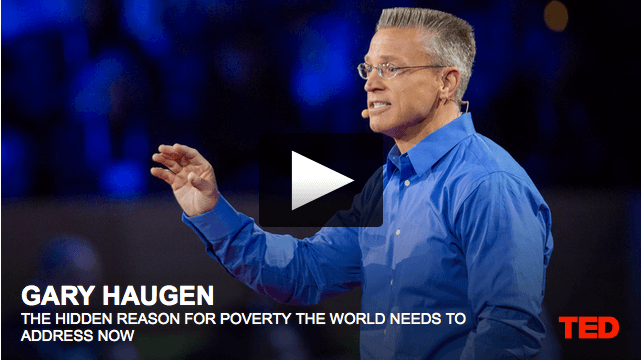 Gary raises an important point:
If a girl was raped in the U.S. while walking home from the library, would our solution be to move the library closer to her dormitory?
Would that shortened walk be celebrated as a success? Pretty sure … not. We would want the violence addressed and the perpetrators brought to justice. Yet, similar scenarios have actually happened.
Despite the good work being done through anti-poverty programs, not even 1 percent of humanitarian aid is designated to protect the poor from lawless chaos. More people live in slavery now than at any point in history—an estimated 35 million according to the Global Slavery Index. And nearly two million children are exploited in the sex trade (UNICEF).
If forced labor, sexual violence, trafficking, and illegal property seizures aren't stopped, so many wonderful goods and services programs will not make nearly the impact they could. The reticence of non-governmental organizations to become involved in programs specifically designated to end violence may stem in part from their deep-rooted imperative to maintain neutrality when working in complex emergencies in war-torn countries. However, there are still peaceful ways to help curtail the violence.
IJM believes that serious investment must be made to develop resources and transfer expertise—to offer training to public law enforcement officers. In a growing number of nations, the political will for positive change is growing because criminal systems have reached such corrupt and dysfunctional lows.
In Guatemala, IJM works with local police, prosecutors, and the court systems to prosecute crimes of sexual violence. They also address the key element of social services for the survivors. Although the program is modestly funded, it has made significant progress, due in no small measure to the model that IJM uses. A high percentage of IJM's global teams consist of local lawyers, social workers, investigators and other professionals who can leverage their understanding of local laws, language and culture.
But as Benjamin Franklin once said:
"Justice will not be served until those who are unaffected are as outraged as those who are."
There are many ways you can help even a few of the four billion people in this world who live outside the protection of the law. Here are some good starting points:
About Gary: Gary Haugen founded IJM after serving as the Director of the United Nations (UN) investigation in the aftermath of the Rwandan genocide, and as a human rights attorney for the U.S. Department of Justice. In 2012, he was recognized by the U.S. State Department as a Trafficking in Persons "Hero" in honor of his efforts against modern-day slavery.
About TED: TED conferences bring in speakers from around the world to showcase new ideas and explore how they connect. Initially focused on Technology, Entertainment and Design, TED now regularly features issues and topics in science, business and global development.